These easy to edit templates are a great resource for photographers interested in offering boudoir, valentines, or lingerie sessions. I carefully selected 25 of the best boudoir photography templates from one of my favorite places to shop online, Etsy. I'm excited to highlight these great designs and hope that you find a few you like. By purchasing one or more of these templates, you're supporting small businesses and artists.
1. Boudoir Photography Template by Studio Strawberry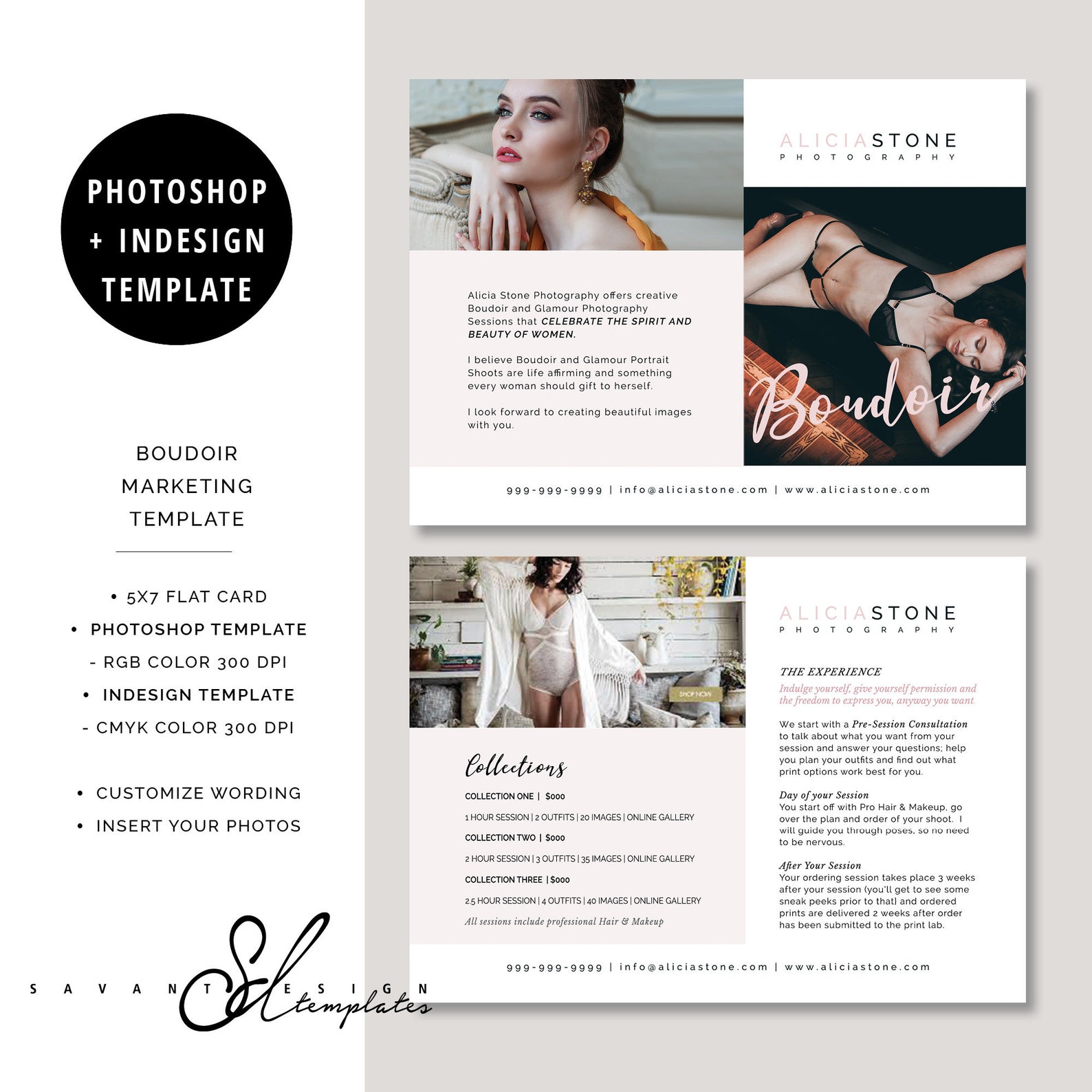 This 5x7 flat card is great for any upcoming event and as a table display. There's a perfect mixture of color and design is created so that the eye flows around the card.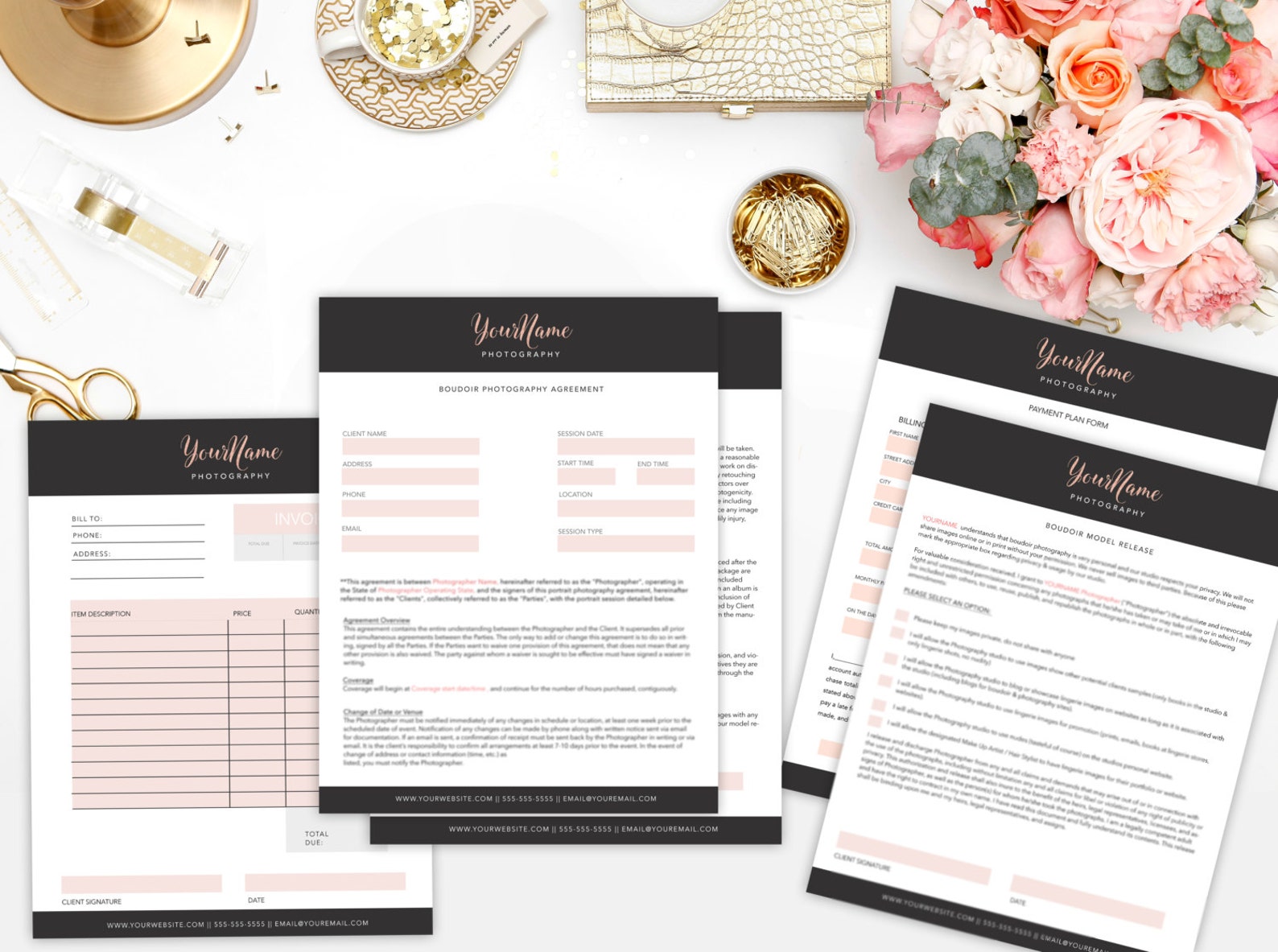 This kit includes a contract, payment plan form, model release, and invoice. It's a Photoshop template with easy drag and drop customization.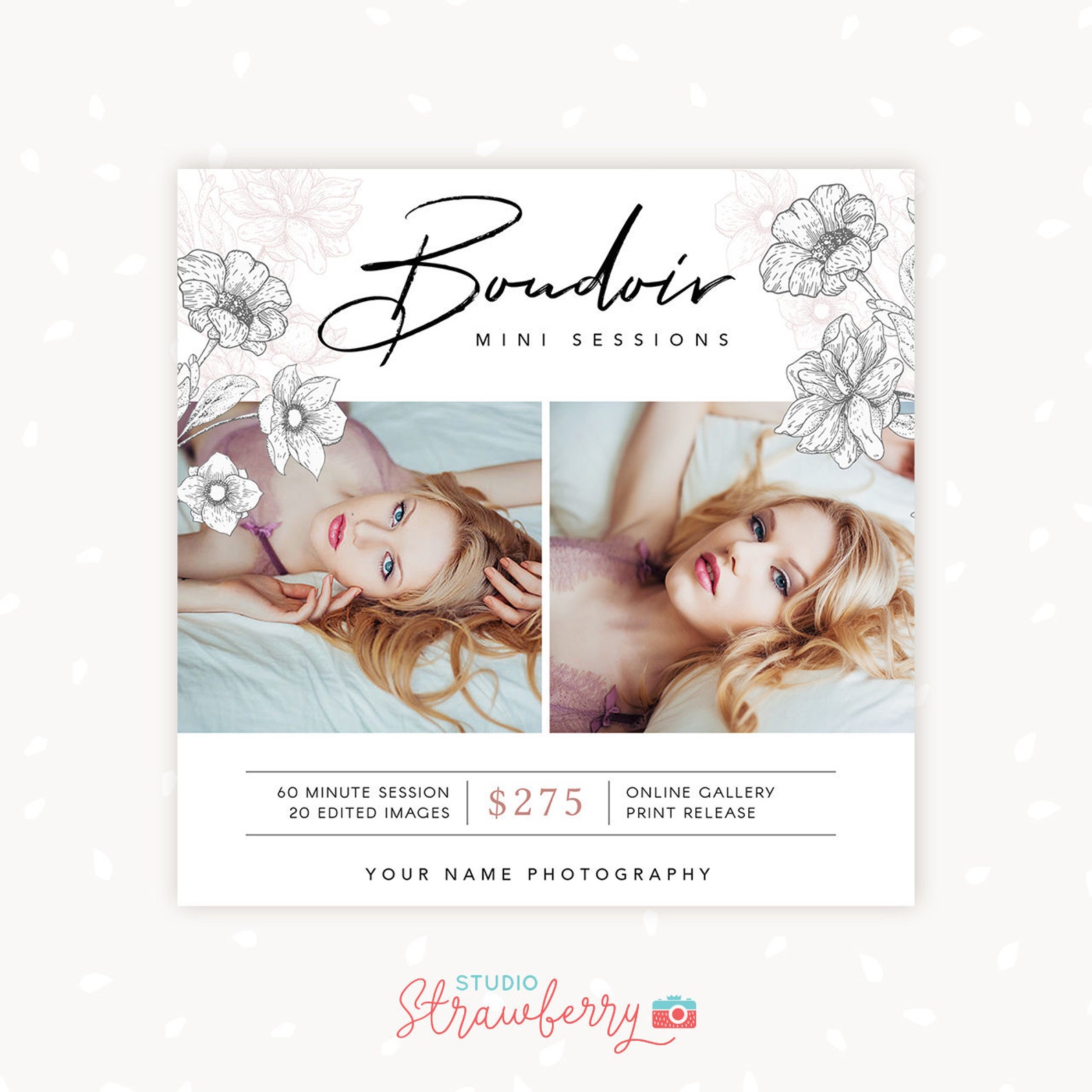 This template features a floral design element and two spots to put your photography.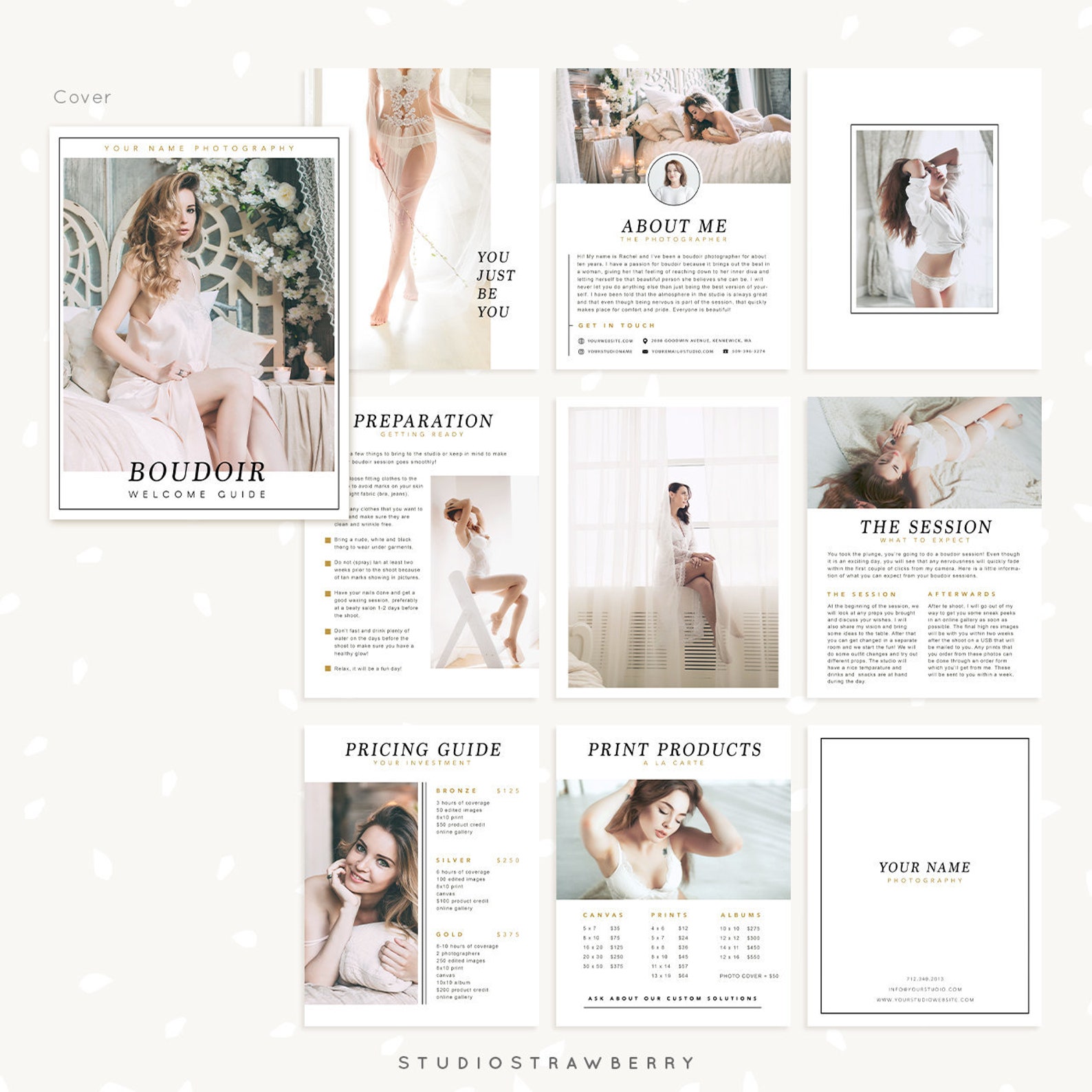 This twelve layered photography magazine template is easily edited and comes with free fonts to use in the template.
This 5x5 template easily allows you to change colors and use the clipping masks that are provided.
7. Boudoir Marketing Template by Jojostudios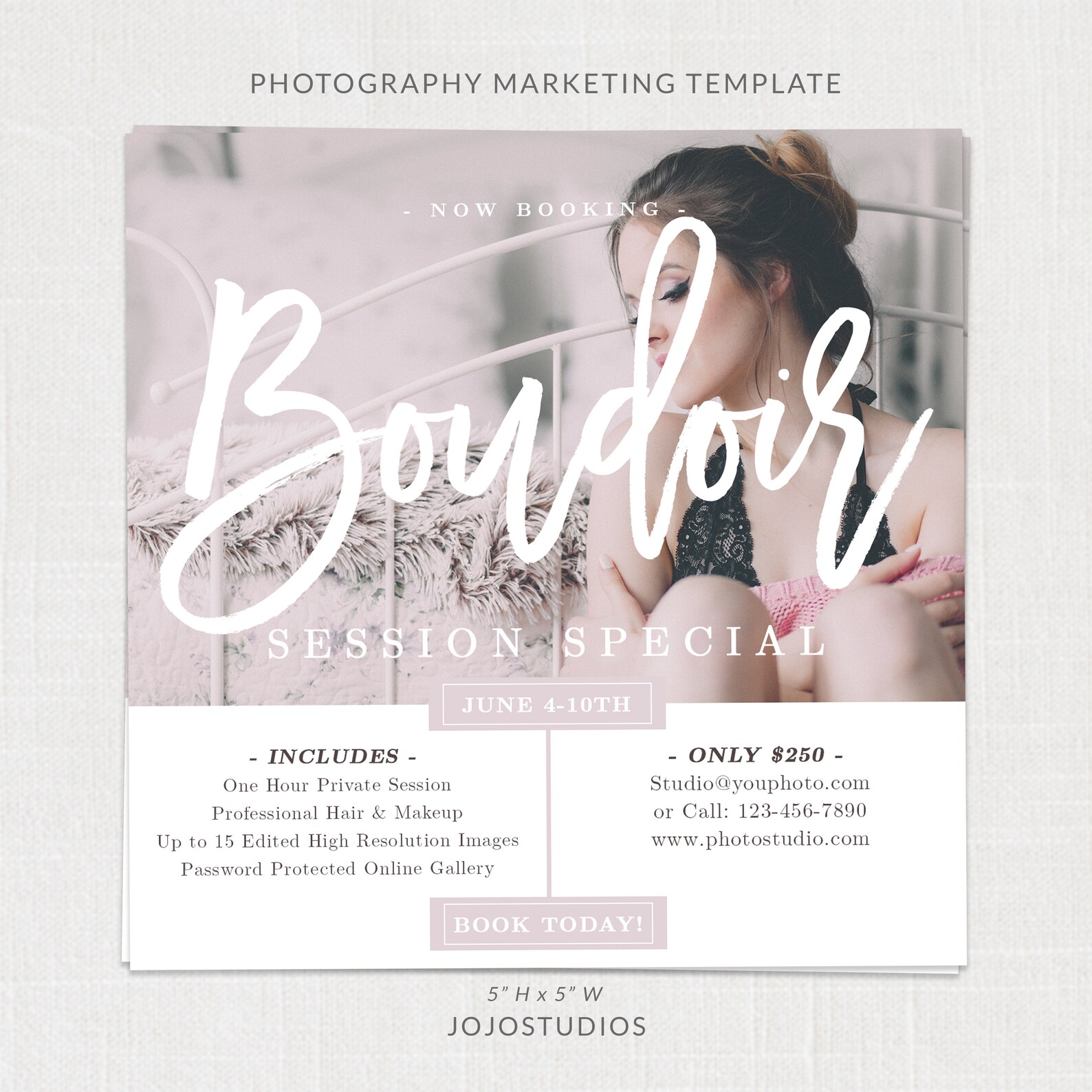 A 5X5 photography template with the name of free fonts and easy image upload.
8. Boudoir Marketing Template by AliceAndPaper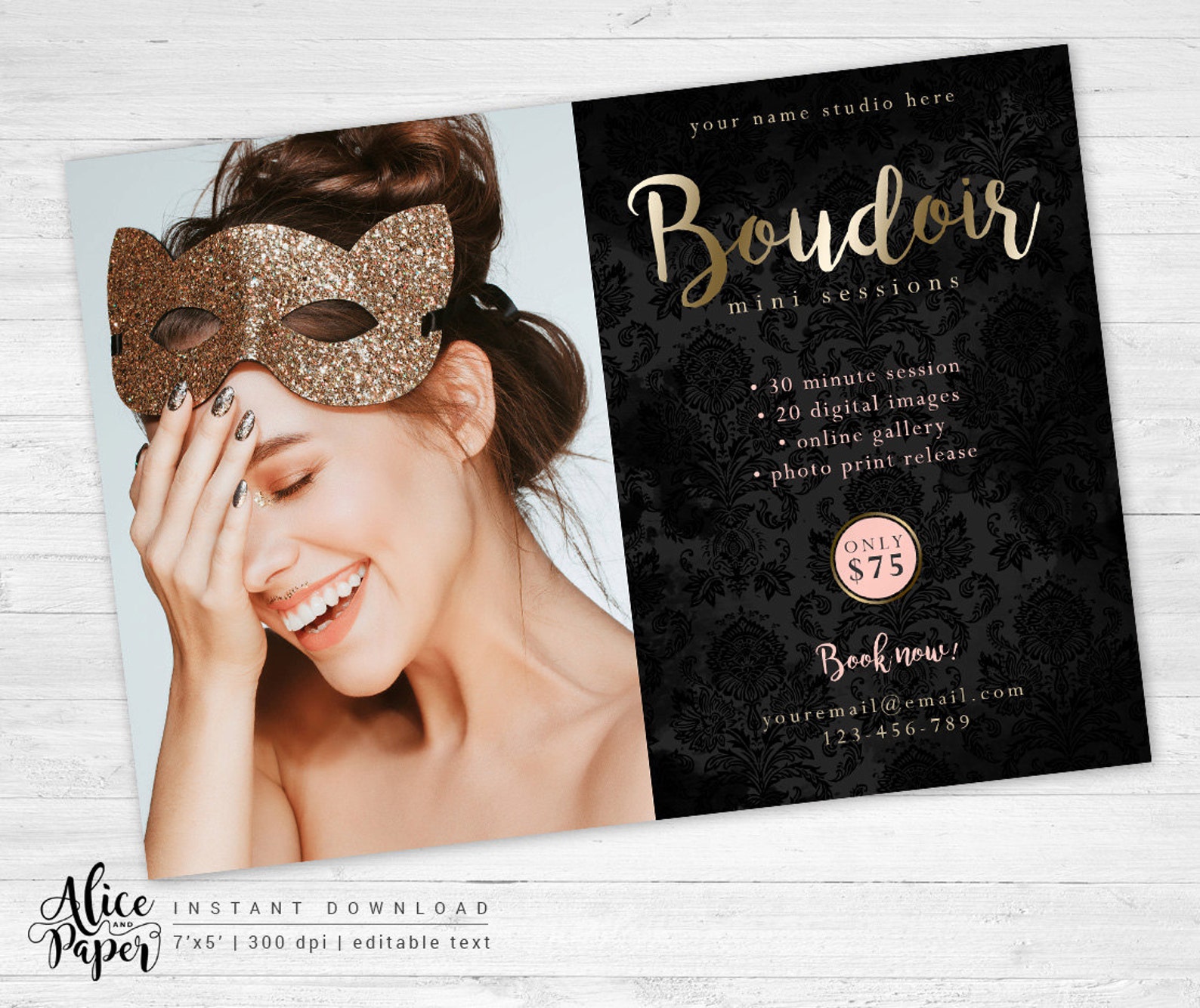 This 5X7 flat card features easy to drop in photos through clipping masks and easy to customize colors. The wording "Boudoir" cannot be changed, but the color can be edited.
9. Boudoir Photography Magazine by PaperLarkDesigns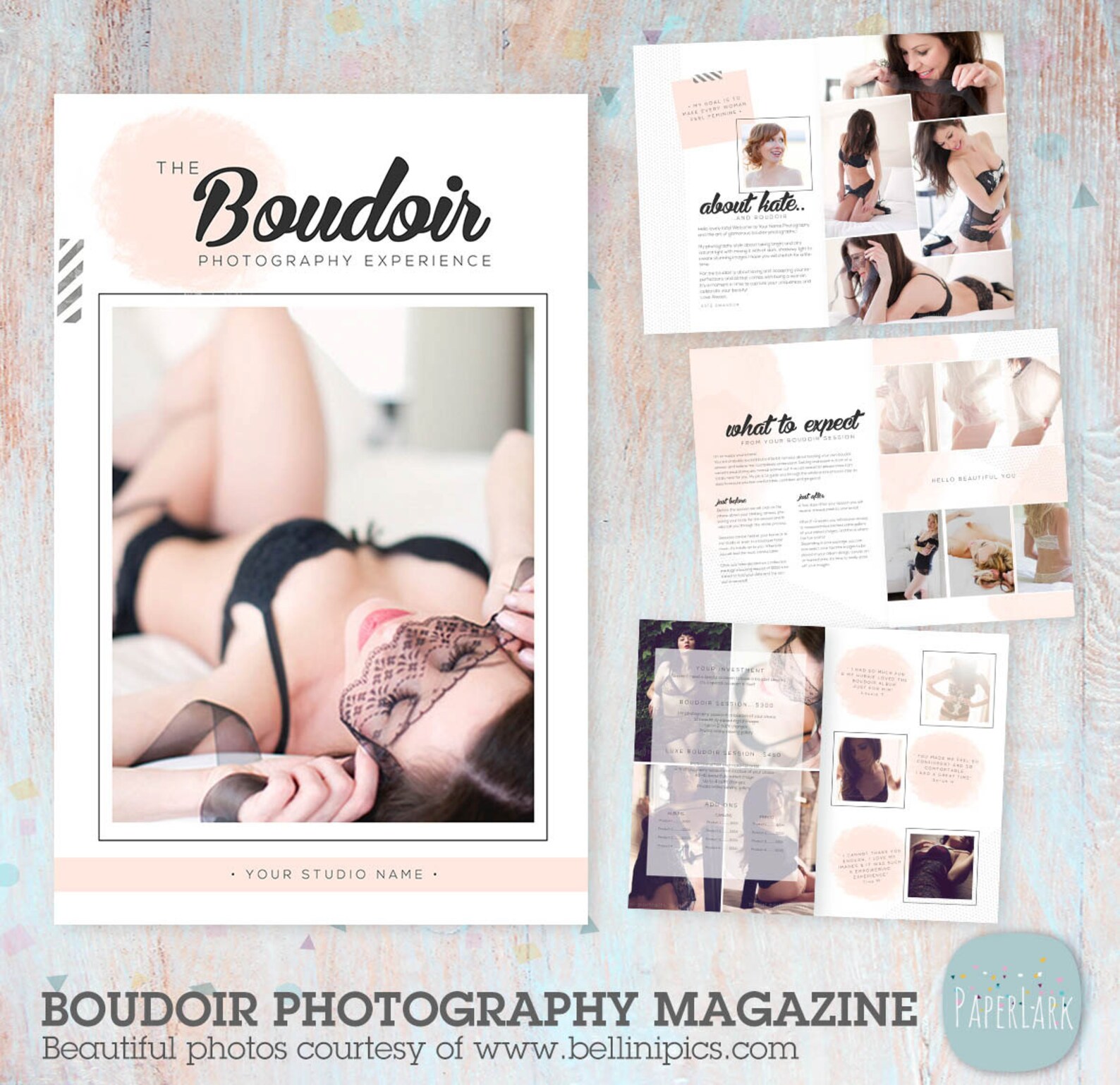 An 8-page digital photography magazine with verbiage written for you so that you can just add your images and logo.
10. Boudoir Template by ByStephanieDesign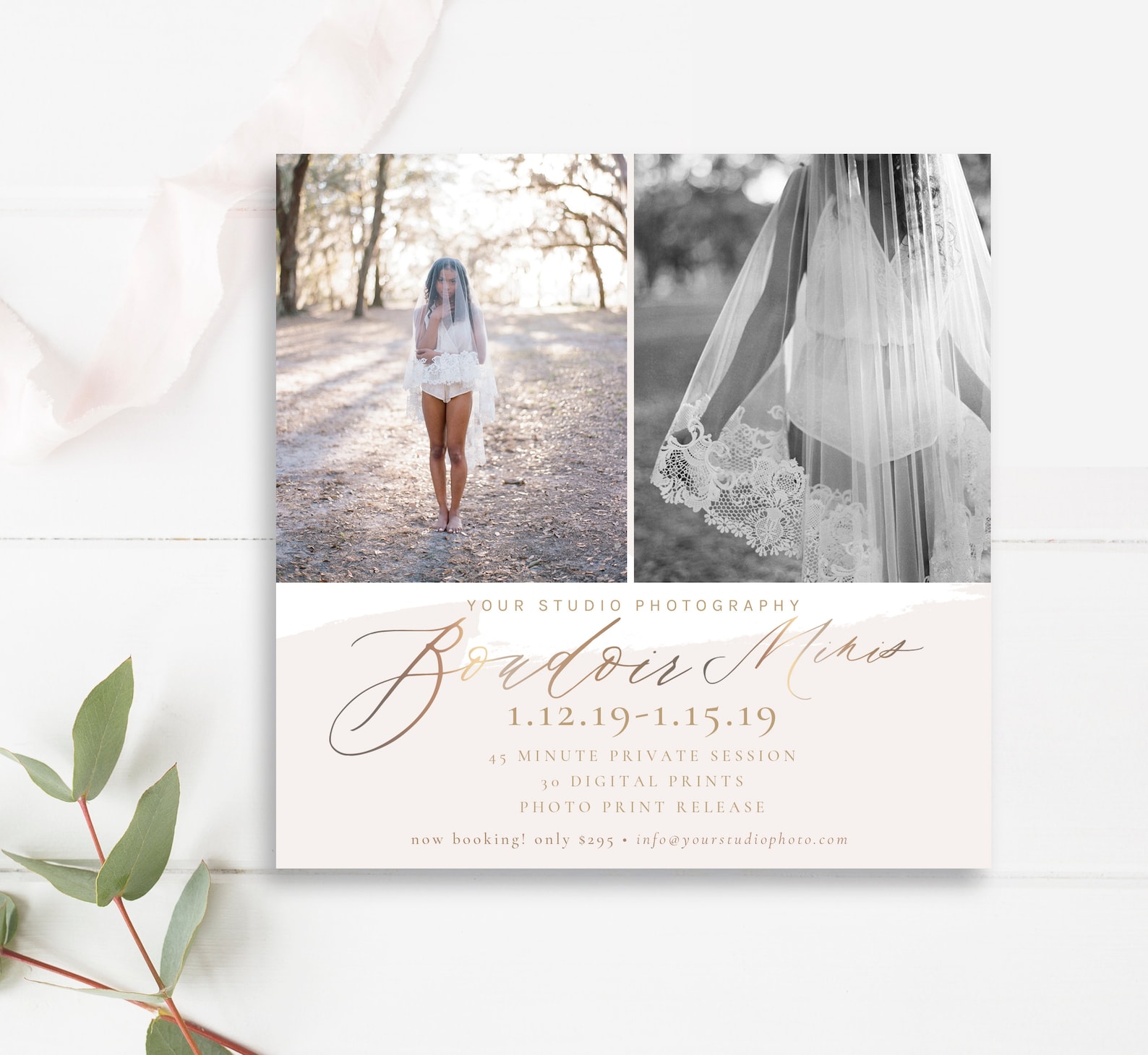 A boudoir mini session template that displays gold lettering and blush accents.
11. Boudoir Session Template by StudioStrawberry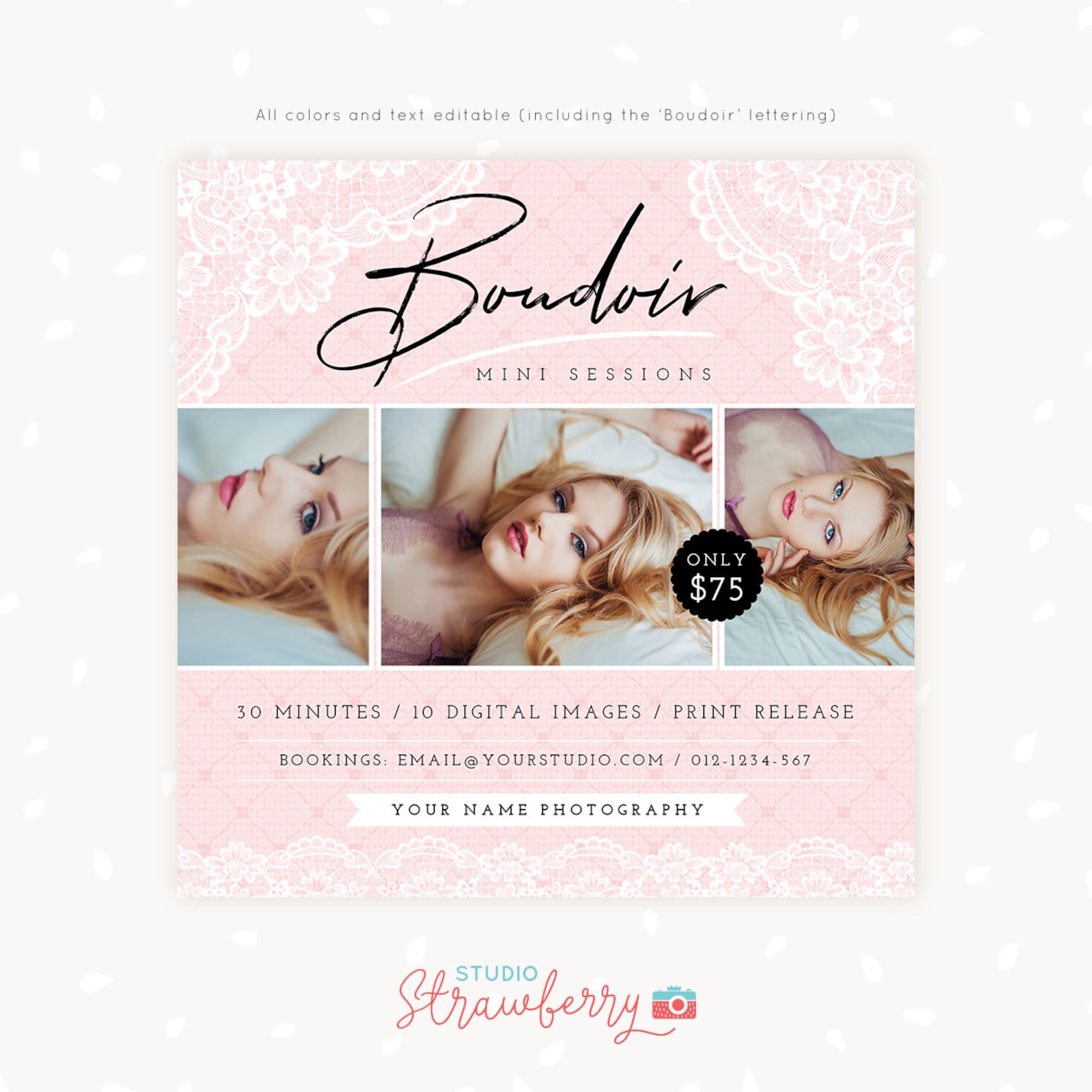 A boudoir pink mini session template with white lace elements that add texture and beauty.
12. Boudoir Trifold Brochure by digiluxedesign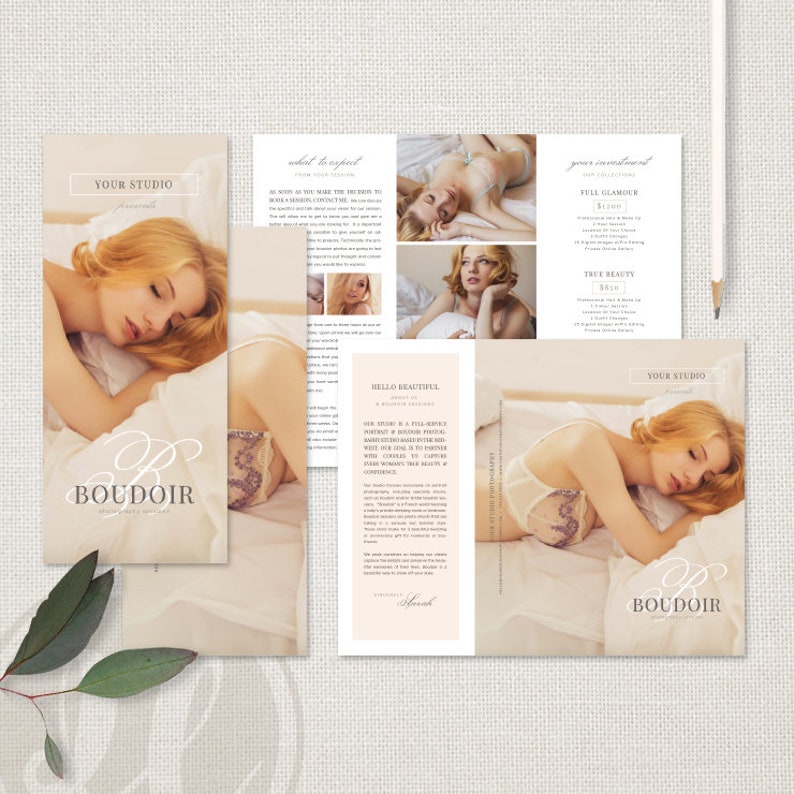 A trifold brochure template with easily customized color and text changes.
13. Facebook Marketing Ad Template by StudioTwentyNine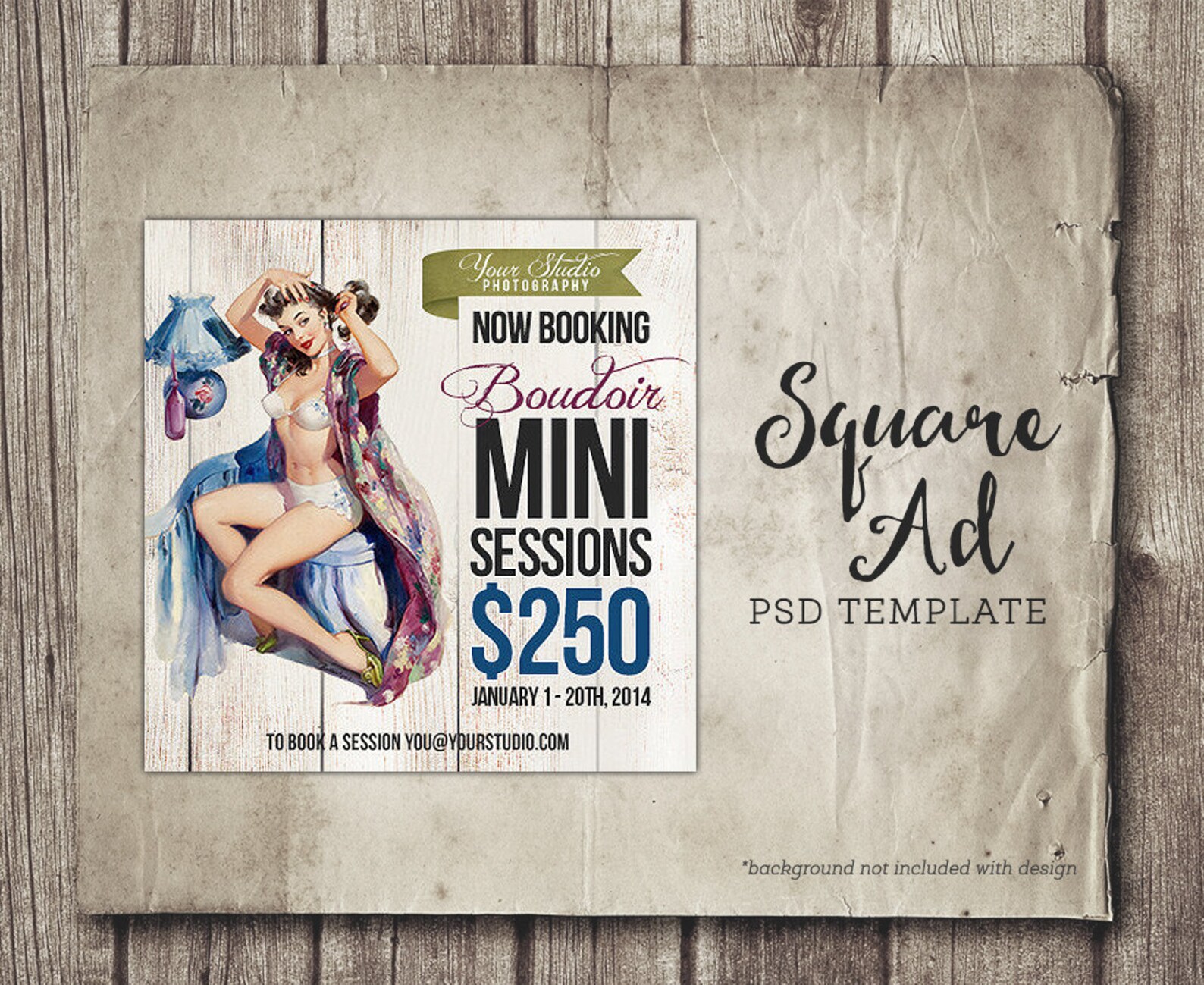 A unique design featuring pinup art. This square design is perfect for social media marketing.
14. Boudoir Mini Session Template by TheHummingbirdPress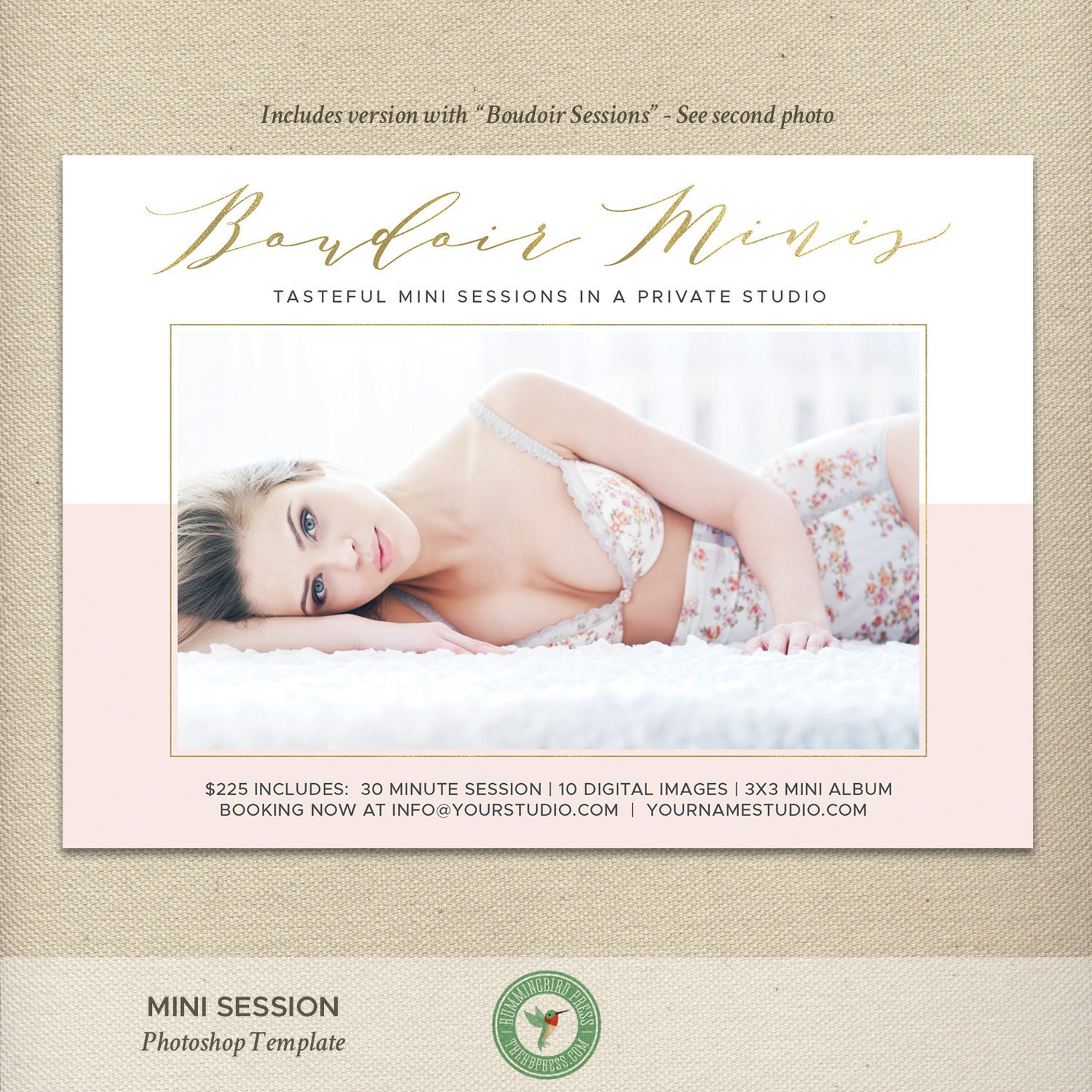 A 5X7 featured boudoir mini session template with gold lettering and pink blush elements.
15. Boudoir Flyer by PaperLarkDesigns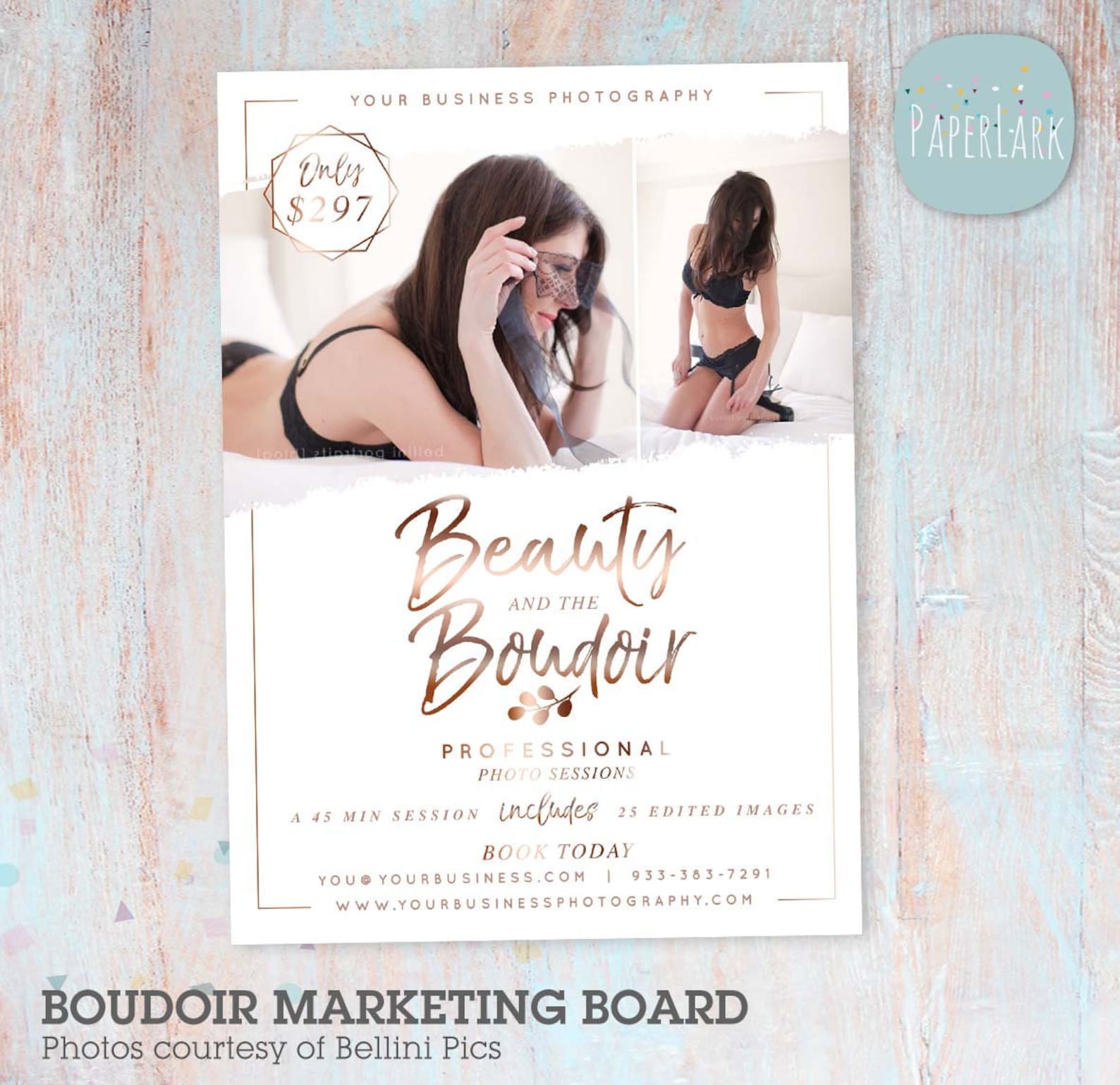 A 7X5 inch flyer with elegant and eye-catching designs.
16. Boudoir Mini Session Template by ByStephanieDesign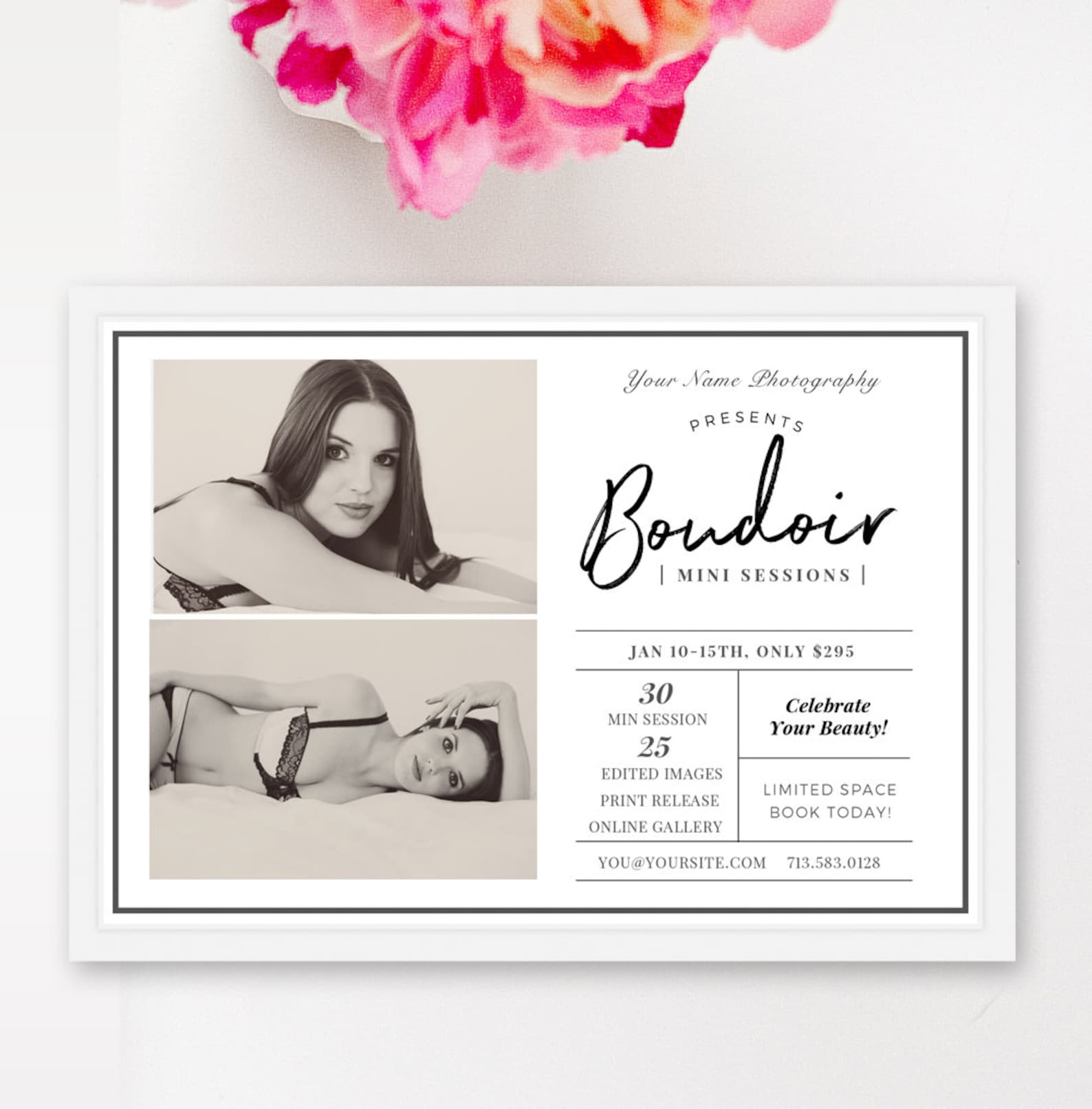 A 5x7 template easily printed through www.millerslab.com
17. Boudoir Valentine Session Template by LovelyDaysCreative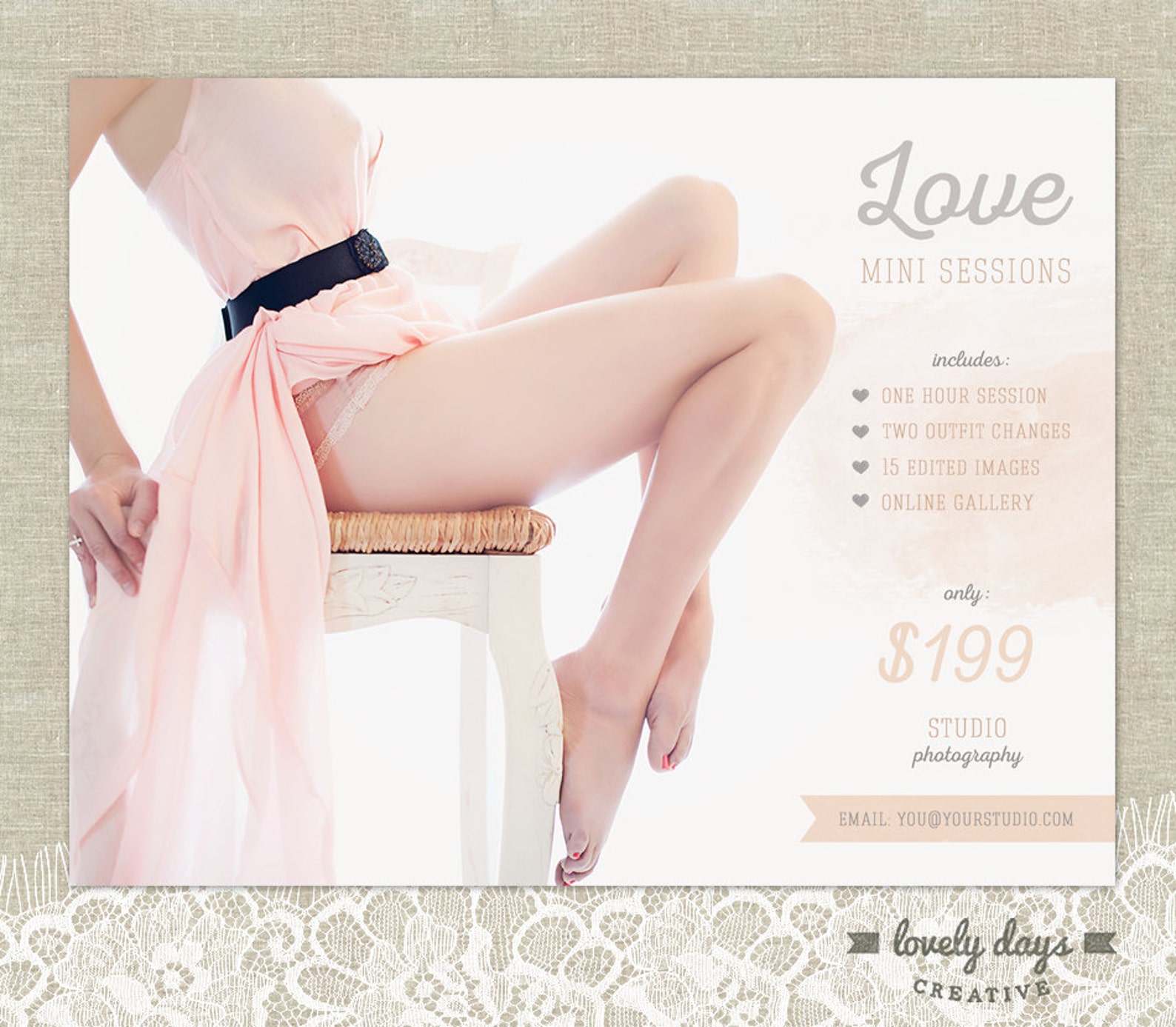 A simple and grant card with minimalistic features that are easily customized.
18. Boudoir Mini Session Template by digiluxedesign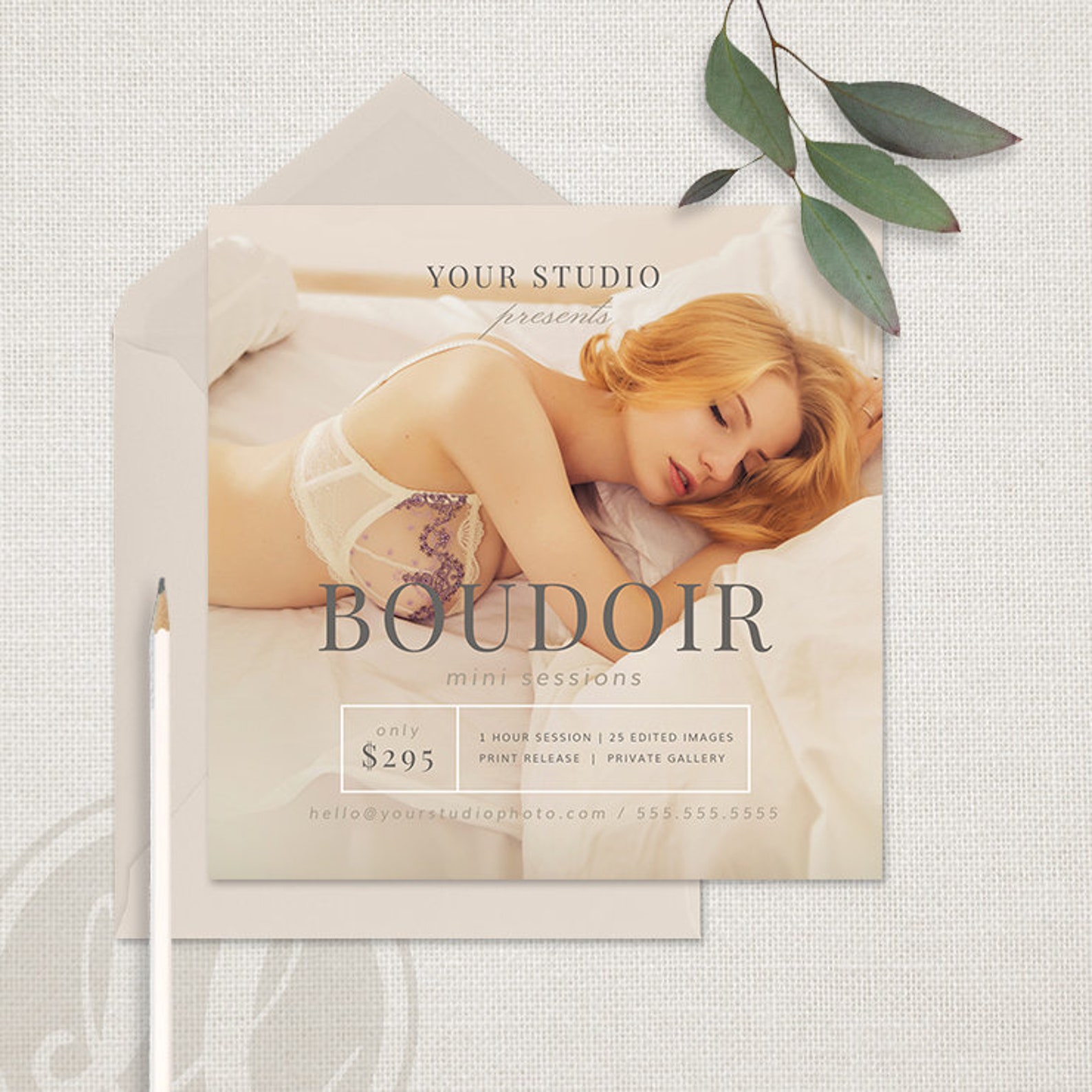 A 5x7 template easily printed through www.millerslab.com
19. Boudoir Marketing Cards by SavantDesign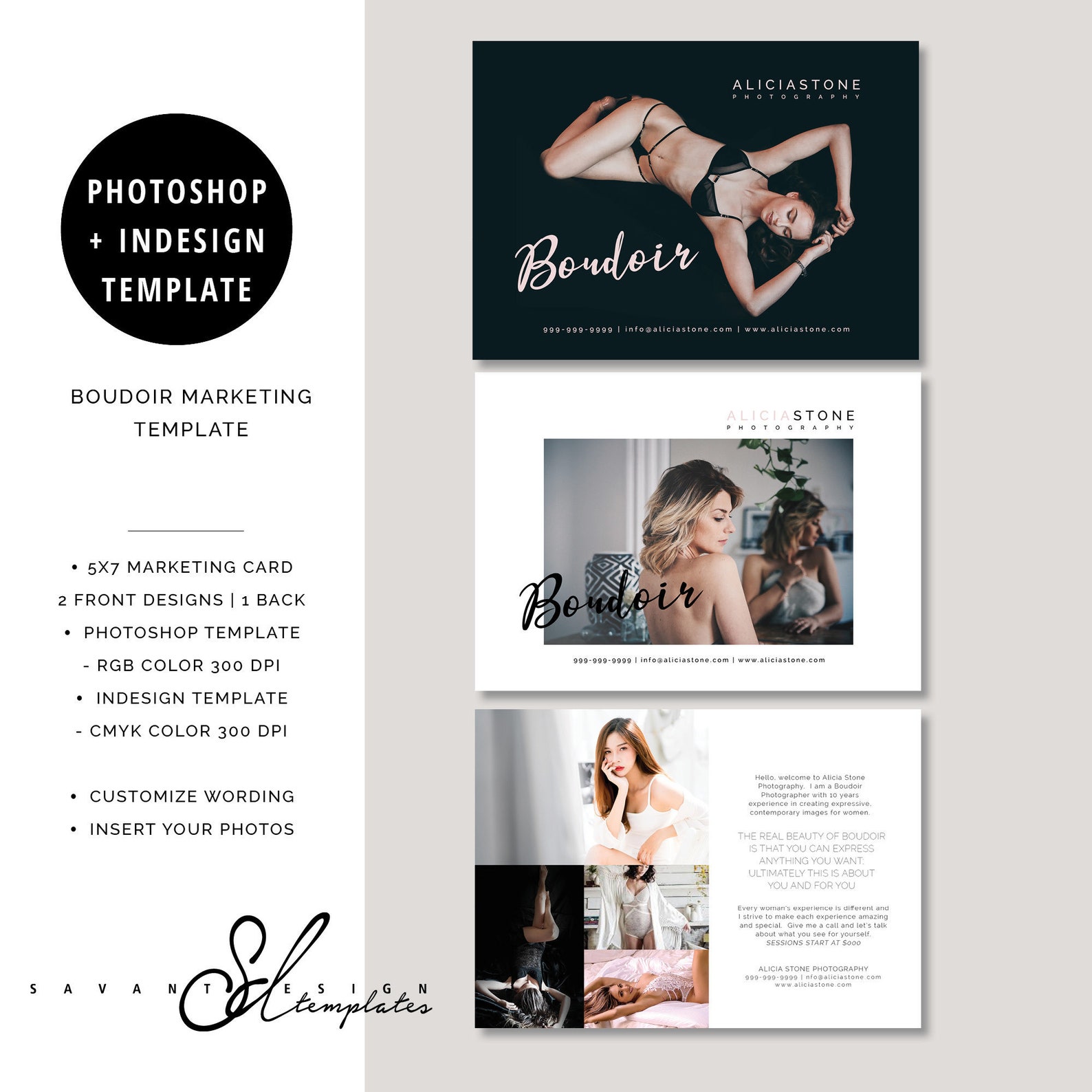 Simple marketing templates for marketing boudoir photography.
20. Boudoir Card Template by AodtodDesign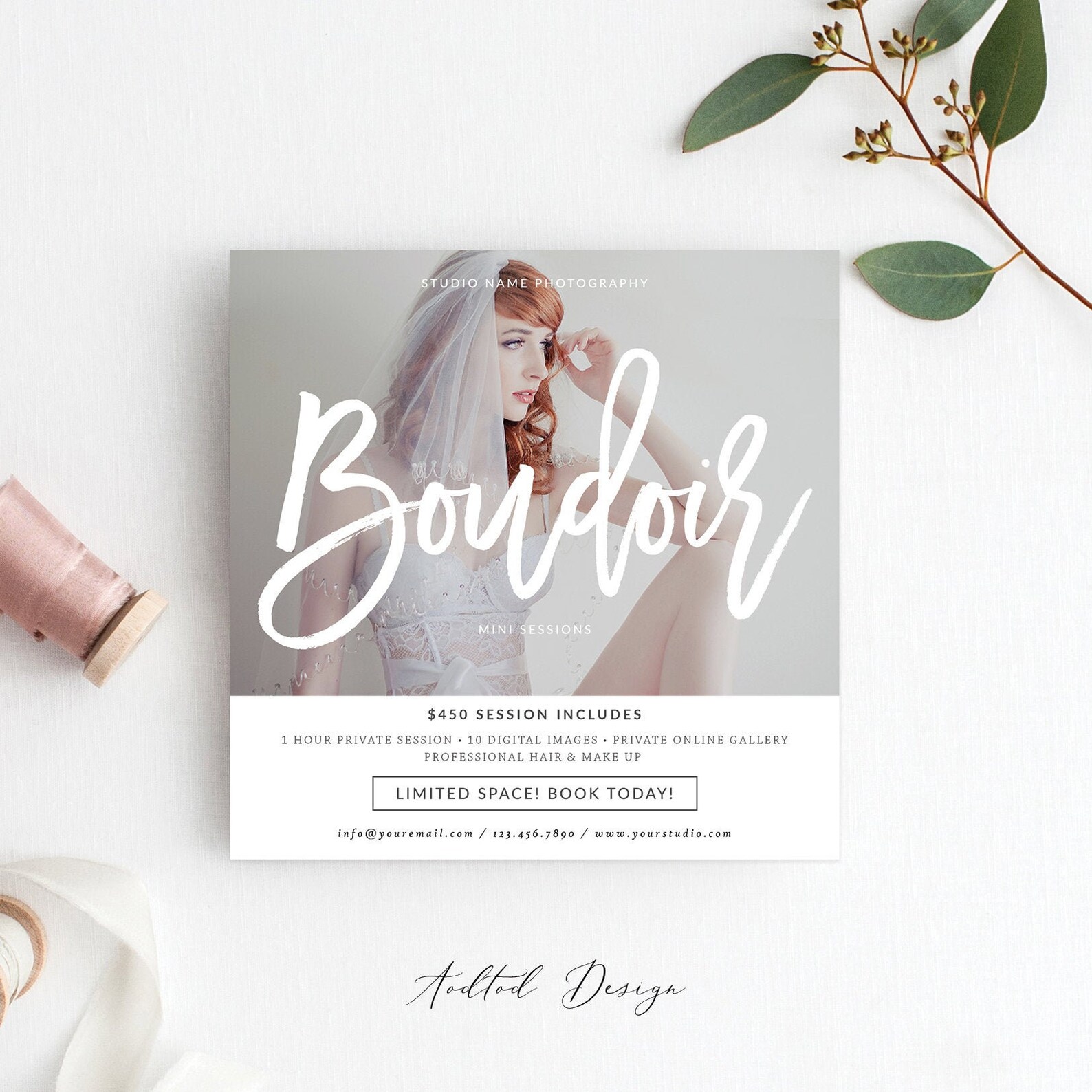 21. Boudoir Photography Template by studiobykate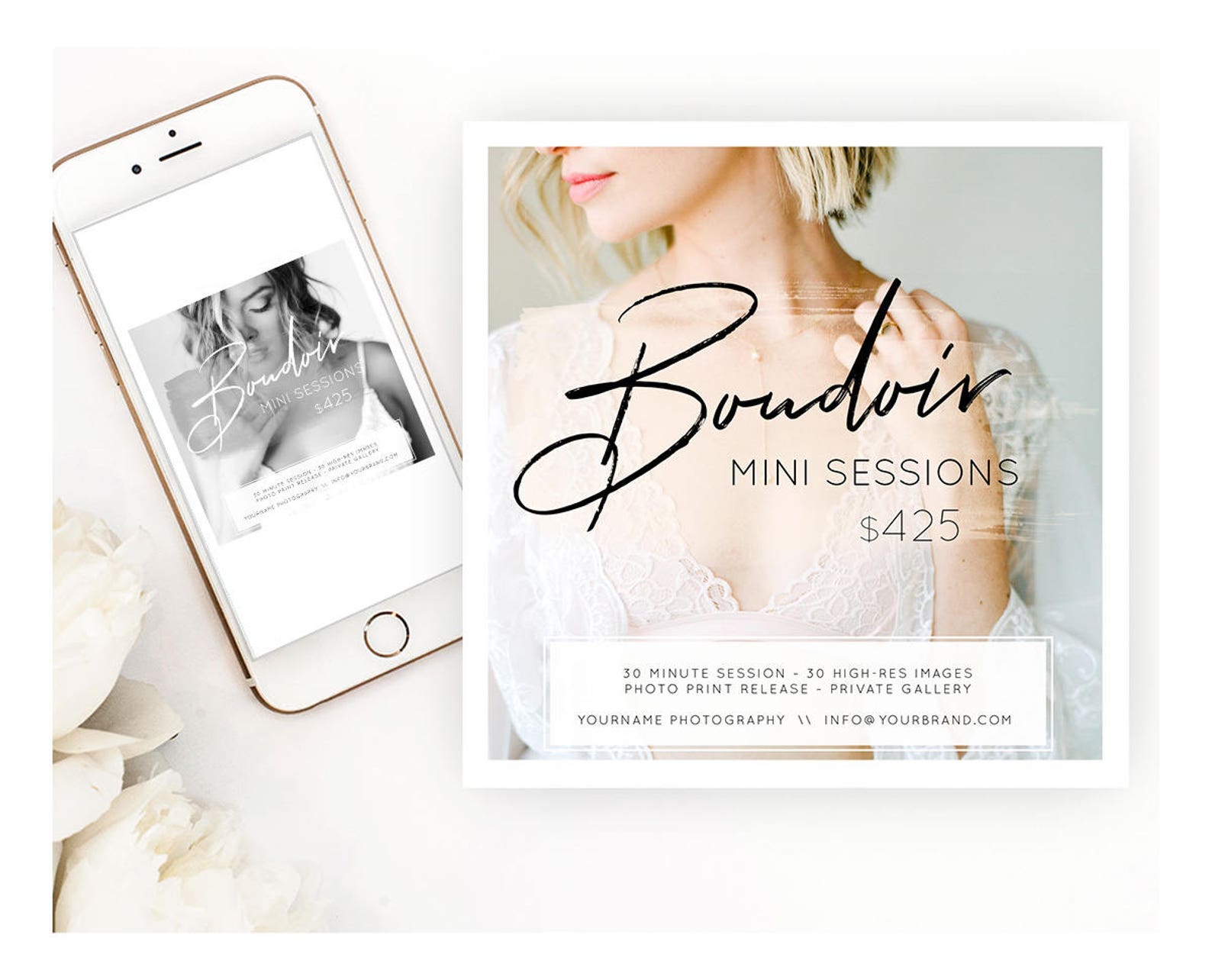 22. Boudoir Valentine Mini Session Template by BellenityDesign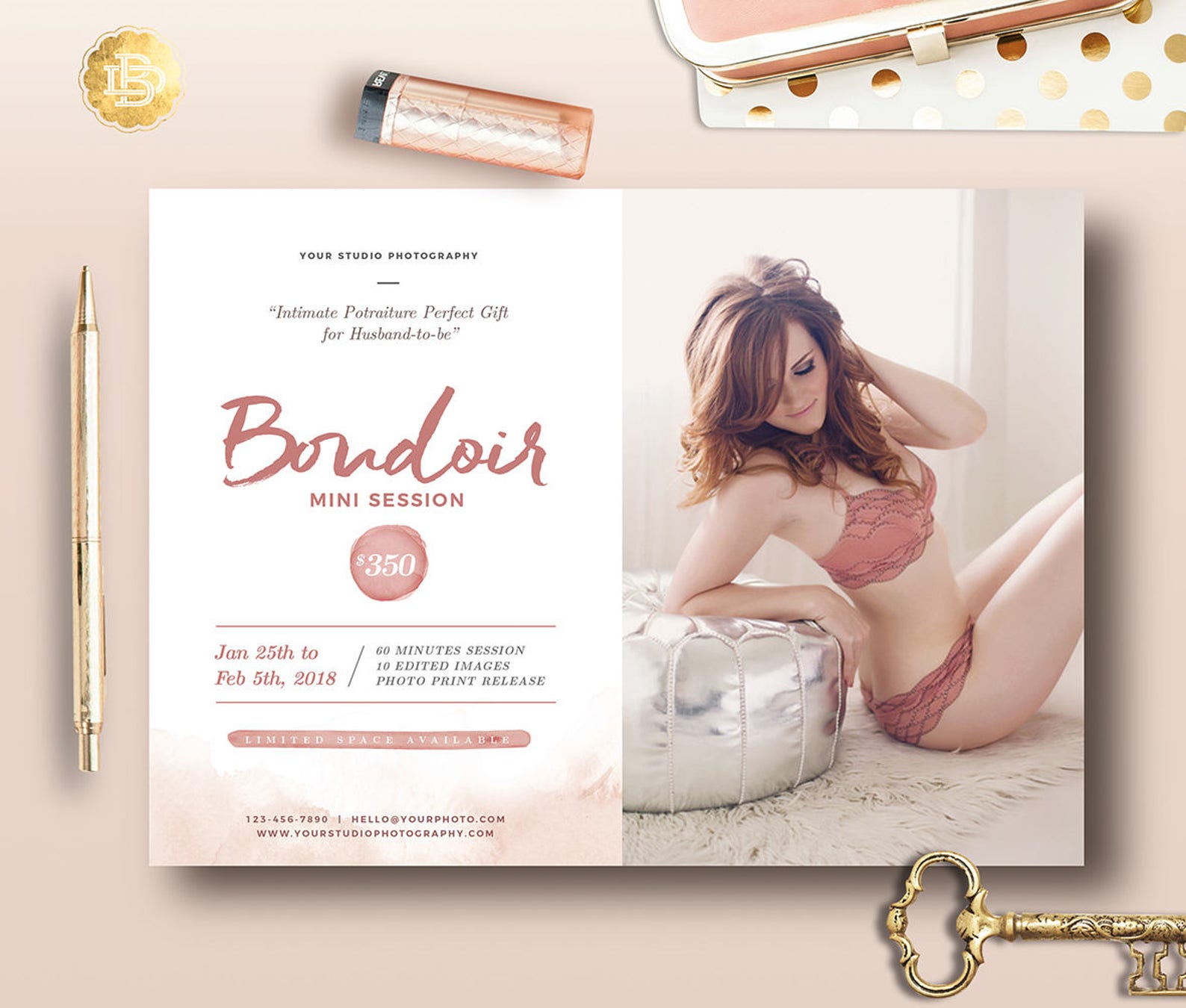 23. Boudoir Valentine Mini Session by MioraDesign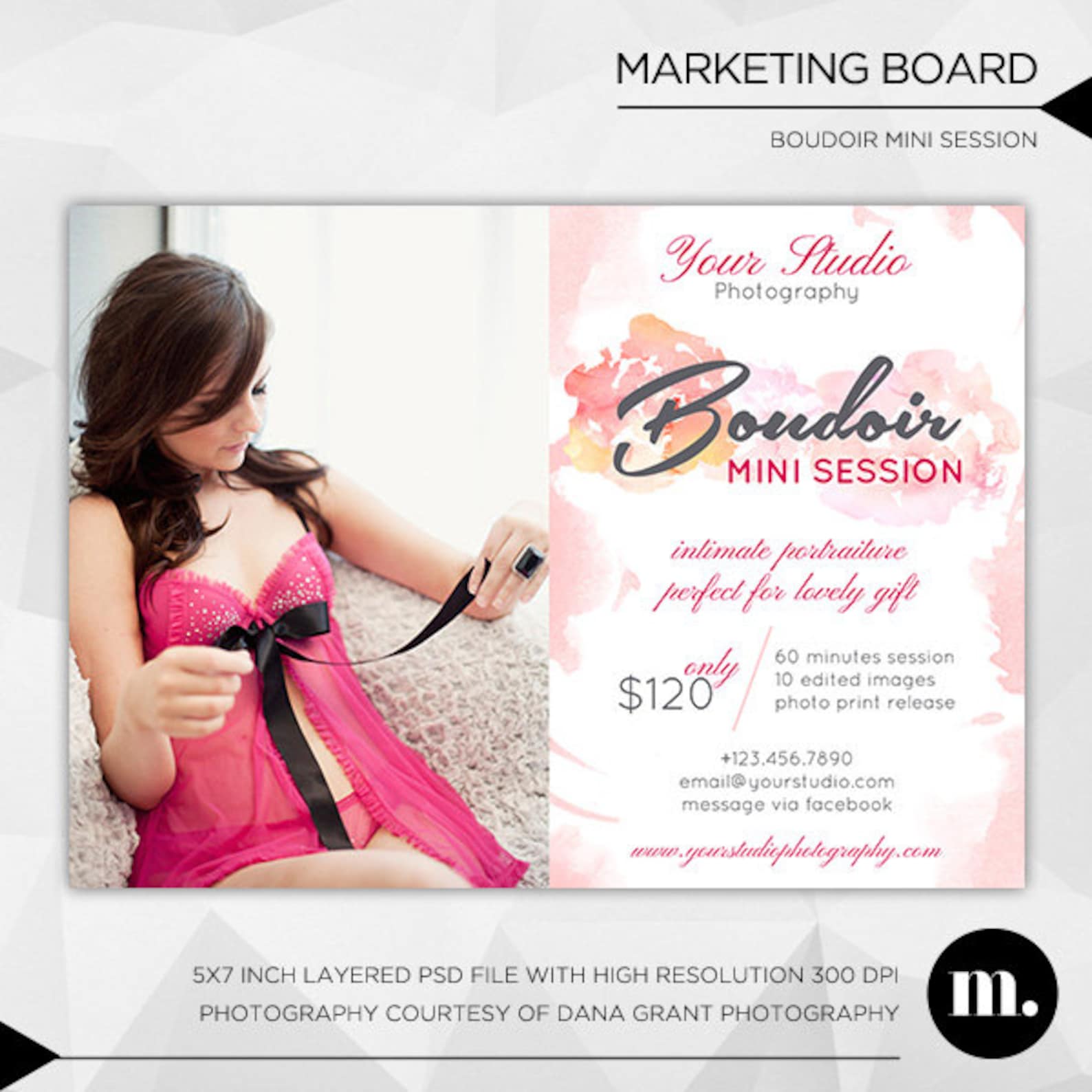 A 5x7 card template with a beautiful watercolor design.
24. Boudoir Mini Session by WildHOneyDsignCo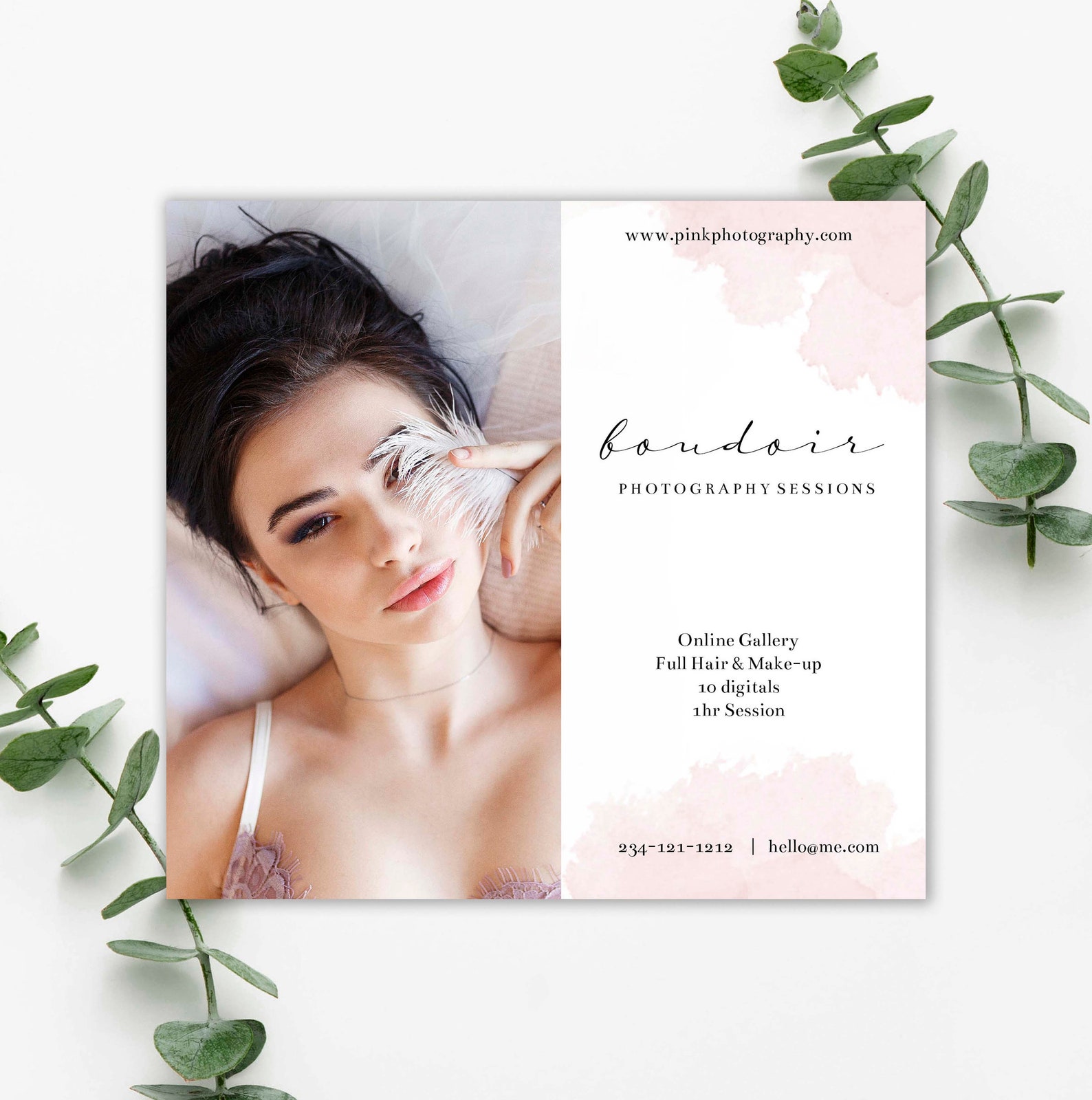 25. Valentines Boudoir Mini Session by WildHOneyDesignCo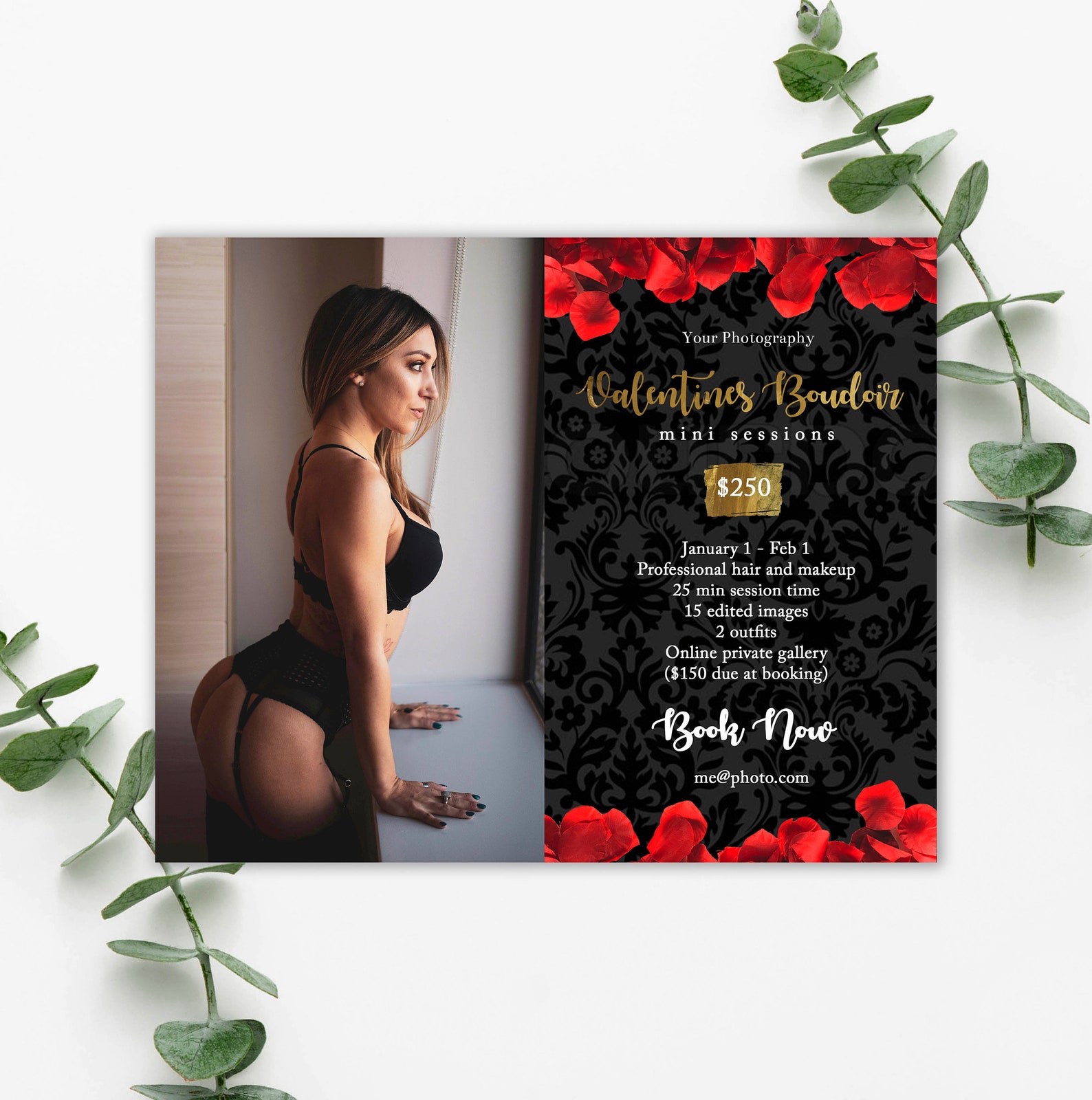 The information contained on this blog is provided for informational purposes only.